India - The Land of Spices
India is the major producer, consumer and exporter of spices in the world. India grows over 60 different varieties of spices because of varied agro-climatic conditions and soil types. India produces about 60 Lakh MT of spices, of which, about 6.9 Lakh MT (11%) is exported to more than 150 countries.
Wander at leisure on the aromatic Kerala spice plantations during your Kerala India eco-tourism Vacations. Stay at the spice plantation farmhouses with the plantation owners and experience the magical charm of staying in the midst of luxuriant plantations laden heavily with a combination of scents of the various spices that are grown on these extensive plantations.
Though you can visit spice plantations almost all over beautiful Kerala, Periyar is one of the most popular spice districts in Kerala, South India. This absolutely beautiful hill district is covered with a variety of spice plantations that lie close to the famous Periyar wildlife sanctuary. Shop for rare spices at the local Kerala spice markets and inhale the intoxicating aroma of cinnamon, cardamom, pepper, ginger, turmeric, curry leaves and other spices. Besides the cultivation of these traditional Kerala spices the Kerala plantation owners have also taken to growing spices such as rosemary, oregano, mint, vanilla, bay leaves, basil, thyme and others.
Discover the secret of the mouthwatering Kerala cuisine as you visit the acres of Kerala spice plantations on your eco-tourism vacations with Kerala India Vacations. Spices are basically fragrant substances of vegetable origin with distinct flavors used in selective combinations to give a special flavor to the exotic Indian cuisine.
Enjoy bird watching tours and nature treks to the lovely Kerala spice plantations with Kerala India Vacations and experience the Kerala natural beauty at its aromatic best. Watch the locals work on the extensive spice plantations and observe closely the way of life in these Kerala spice plantations and enjoy your eco-tourism vacations thoroughly.
Nutrition
Because they tend to have h2 flavors and are used in small quantities, spices tend to add few calories to food, even though many spices, especially those made from seeds, contain high portions of fat, protein, and carbohydrate by weight. Many spices, however, can contribute significant portions of micronutrients to the diet. For example, a teaspoon of paprika contains about 1133 IU of Vitamin A, which is over 20% of the recommended daily allowance specified by the US FDA.[14] When used in larger quantity, spices can also contribute a substantial amount of minerals, including iron, magnesium, calcium, and many others, to the diet.
Most herbs and spices have substantial antioxidant activity, owing primarily to phenolic compounds, especially flavonoids, which influence nutrition through many pathways, including affecting the absorption of other nutrients. One study found cumin and fresh ginger to be highest in antioxidant activity.[15] These antioxidants can also act as natural preservatives, preventing or slowing the spoilage of food, leading to a higher nutritional content in stored food.
Medicinal & Other Values of Spices/Spices in Indigenous Medicine System
Black Pepper - Medicinal Properties
Pepper from Piper Nigrum is one of the oldest and world's most important spice. Black pepper is the dried fruit of Piper nigrum L. Native of Malabar coast of South Western India; pepper is also called the King of Spices.
Pepper is used in certain tonic and rubefacient preparations and also used as flavour ingredient in most major food products including non alcoholic beverages, candies, baked foods, meat and meat products, Cheese, Condiments and relishes.
The fruits are acrid, bitter, carminative, aphrodisiac, diuretic, digestive and stimulant. They are useful for arthritis, asthma, fever, cough, dysentery, dyspepsia and flatulence.
Black Pepper's aromatic, slightly musty odour comes from the volatile oil found largely in the flesh and skin and its pungent bite comes from the alkaloids and resins found mostly in seeds. The Oil goes into perfumes and flavouring. The scaring substance has served many purposes. They have been used as carminative, reducing stomach and intestinal gas and have been found to stimulate the activities of the heart and kidneys. Piperine is also an effective insecticide against houseflies and is also used for spraying against different types of pests in garden.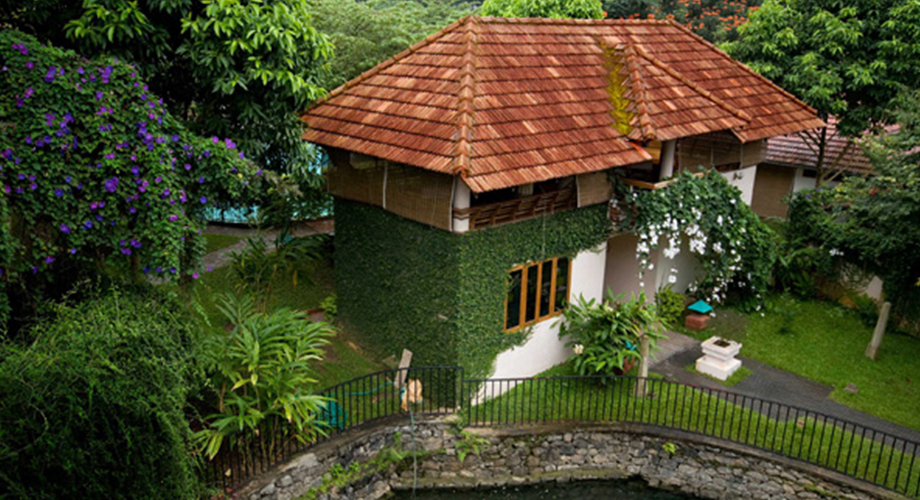 Cardamom County
About Cardamom County, a Nature retreat is set in beautifully landscaped gardens against the green clad mountains of the Periyar Forests...
Price start From €510
View Detail
Choose this hotel